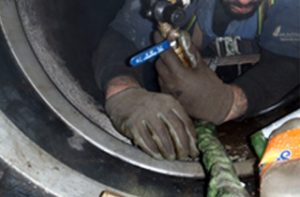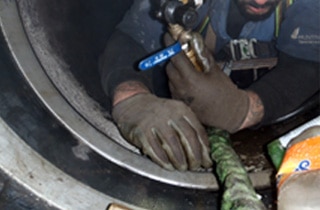 When a water main or sewer line breaks, the first priority is to get it fixed as quickly as possible, and factoring in the total cost of downtime, repair, or replacement, the numbers can add up pretty quickly. With municipal water pipe repair, knowing how this will impact your budget, plus how it will affect service to homes and businesses in the area plays an important role in how to go about getting the line fixed.
Traditionally, when a pipe broke, there was only one solution: digging down to the pipe, finding the break or leak, and replacing or repairing it. However, with newer innovations in trenchless technology, having to excavate is avoided as it is virtually a "dig-free" solution. To determine which one is right for a municipal or industrial pipe repair, there are a few factors to consider.
Traditional Pipe Repair Methods
When a water or sewer line has corroded, been compromised with infiltration, has leaking joint seals, or has simply broken, the first step is, of course, shutting off the water supply. This causes downtime at local businesses, affects productivity, and, depending how long the service is down, it can lead to lost profit. Water is the most vital resource needed to keep industry running, and so, the speed of a repair or replacement is crucial.
However, the challenge is finding exactly where the problem lies. Traditionally, this requires heavy equipment to excavate down to the pipe, that is most likely covered by layers of asphalt, concrete, and dirt to find where the breach is and what is required to fix it. In some cases, only a few feet of pipe on either side of the break needs to be repaired or replaced, but in severe cases of corrosion or tree root infiltration, the whole pipe will need to be dug up, removed, and a new pipe installed. This can take days of work, leaving area homes and businesses without water and causing industrial plants to grind to a halt.
Once the job is done, the pipe is completed and water is restored, additional cost and time has to be taken into account to replace or rebuild infrastructure. The roads, sidewalks, parking areas and land in general need to be repaired and restored, while any removed pipe and debris must be disposed of.
Pros and Cons of Traditional Pipe Repair
Pros:
● Traditional pipe repair methods are effective
Cons:
● Time-consuming – excavating to access the pipe, replacing and repairing it can take days of work while businesses go without water.
● Infrastructure, roads, and parking must be dug up and then replaced, which could disrupt traffic flow and cause back ups and delays
● Expensive – the cost of excavation, repair, and restoring the infrastructure and land above the break is costly.
● Large amounts of debris to dispose of.
Trenchless Pipe Repair Methods
With trenchless pipe repair for municipal and industrial water lines, repairs and replacements are done with virtually no digging and take place completely underground. First, a small access hole is dug at the entrance to the pipe, and we do a pipe inspection where a small camera is run through allowing us to see the issue and create a plan for repair and replacement.
There are varying forms of trenchless pipe repair to address different levels of need:
Joint Sealing
For targeted leaking joints. This method targets the leak and provides a long term repair solution. This approach provides pipe joint repairs, pressure pipe repairs and joint infiltration in drinking water, storm drain sewer, gas pipelines, storage pipelines, distribution pipelines and power generation pipelines. This system is a customized solution and consists of a rubber seal held in place by stainless steel retaining bands that isolate the leak and provides a tight seal.
Pipe Relining
For localized cracks, leaks or mild damage, pipe relining is an effective method of industrial and municipal pipe repair. After the initial inspection, the proper pipe relining system is chosen, depending on if it's needed for industrial processes, potable water pipes, or other uses. The liner is fed through the existing pipe, then inflated to form a new pipe that bonds to the existing one. Within a few hours, the liner cures to a hard, durable material that creates a new pipe.
Pipe Bursting
In the event of severe damage, where an industrial or municipal pipe needs to be replaced, a technique called "pipe bursting" is used. A motorized bursting head is fed into the existing pipe, breaking it apart while powering through any roots or blockages. At the end of the bursting head, the new pipe is attached, so as the head goes through, the new pipe is seamlessly laid behind it.
Pros and Cons of Trenchless Pipe Repair
Pros:
● Fast – all solutions of Joint seal repair, pipe bursting and pipe relining can be completed in just a few hours instead of days.
● Saves Time – Minimal to no downtime for businesses and industry
● Cost Saving – Trenchless technology can be done at a fraction of the cost of traditional pipe repair.
● Only small access holes need to be dug, ensuring minimal damage to property and infrastructure
● Little to no waste or debris
Cons:
● When the proper method of trenchless technology is used and applied correctly, there
are no real downsides to this technology when compared to traditional pipe repair.
Contact Us for Municipal or Industrial Trenchless Pipe Repair
Using our proprietary line of pipe repair products and innovative repair solutions, we work with industrial, municipal, and government organizations to repair and replace complex pipe systems. To learn more about how our trenchless sewer and water pipe repair services can help you, contact us today at 513-827-9169 or fill out our contact form to learn more!
Contact HydraTech For Trenchless Pipe Repair