Hydratech Field Services is always up for a challenge. Hydratech was called in to install custom made Hydratite Joint Seals for a farming irrigation system job that, to most, would seem impossible. The project required the application of our joint seals to aid in the joining of new and old pipes on the customer's farmland.
The project site was located in the remote reaches of Othello in a muddy and cold area that required a 4-wheel drive truck to access the joints that needed repair by Hydratite Joint Seals. The job would have been much more manageable for our team in the warm, dry summer months, but the situation couldn't wait. So, our group of trained joint repair technicians went to work in unfavorable conditions.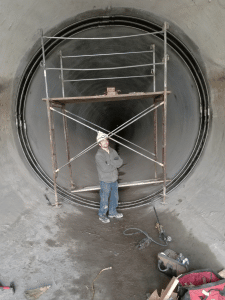 This project serviced a farm irrigation system that relied upon a 156″ diameter pipe. With a pipe so large, the project required our Field Service Team to set up scaffolding to install the four
highly needed Hydratite Joint Seals. Three of the four seals were applied in an area in which there was a slow of 25-45-degree slopes.
In these areas, we applied a double-wide Hydratite Joint Seal and three retaining bands at all four joints needing repair, to connect the older sections of pipe with the newer sections of pipe. Hydratite Internal Joint Pipe Seals consist of rubber pipe seals that are held in place by stainless steel retaining bands. All Hydratite Joint Seals are specifically made to solve all of our customer's unique issues when they are faced with a deteriorating and eroding pipe emergency.
With this emergency repair, the application of a Hydratite Internal Pipe Joint Seal saved our customer's irrigation pipe from further damage and deterioration by successfully applying the four rubber seals and retaining bands at the joints of the old and new pipes. By performing this emergency pipe repair using a Hydratite Joint Seal, our field service team prevented future leaks, saving the customer from spending even more time and money in the long run!
The Hydratite Joint Seal is custom made to meet individual project specifications and is a smart and efficient product that allows for emergency repair to deteriorating pipes from the inside. Our internal pipe joint seals are a proven solution when emergency repairs are needed and have been successfully used and trusted by our customers for over 20 years!