PROVEN EXPERIENCE
WITH MEASURABLE RESULTS

Through Wall Leaks
HydraTite® (Internal Joint Seal System)
Market
Power
Challenge
The challenge was to eliminate air leaks from the through wall.
Engineered Solution
The solution proposed utilized the HydraTite® seal with six three-piece stainless steel 316 steel bands, a double wide HydraTite® seal, and a 16 gauge stainless steel backing plate.
Scope
The circulating water box system required a vacuum on the system to allow proper water circulation in the water box and provide cooling through all tubes. This operating performance was degraded due to wall leaks in the discharge piping that allowed atmospheric pressure to reduce vacuum levels and thus reduce cooling capacity of the condenser and overall electrical generation.
The crew and all materials entered through an existing manhole and were able to complete the system installation within the work window provided by the station.
Solution
At the completion of the project, the system performance was brought back to as built specifications with the nuclear plant operating at better efficiency and thus increasing electrical generation output.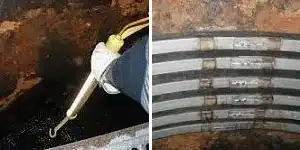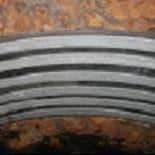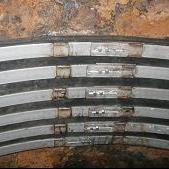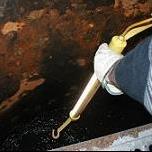 Explore HydraTite

More Products

Case Studies


Explore HydraTite


More Products


Case Studies


Explore HydraTite


More Products


Case Studies