FIBER WRAPPING A BRIDGE'S COLUMNS
Spalling Threatened the Integrity of the Bridge's Support

HydraTech, 10/22/2020
A bridge over state route 320 was showing signs of aging. The columns were spalling and reinforcement bars were exposed in a localized area. A repair was needed that would have minimal effect on traffic and would be applied quickly. A solution was needed that would give the columns longevity and ensure that the columns would not need to be replaced.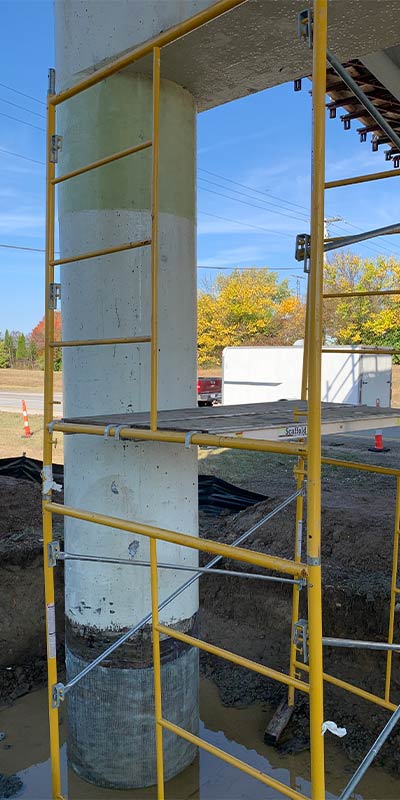 HydraTech Field Services was brought in to apply an FRP (fiber reinforced polymer) repair. This corrosion-resistant, waterproof repair solution was specified to provide confinement to the repaired concrete and protect the columns from further degradation without hindering traffic. The FRP repair was chosen because it could be applied quickly with minimal manpower and equipment.
Caleb Rutledge was one of the three employees called out to repair the three columns and thanks to the training demo he was ready to help. Scaffolding had to be put up to cover the 14-foot tall section of the three-foot diameter columns. The surface of the columns had to be pressure washed and abraded to ensure that the fiber wrap would adhere correctly. The columns were coated, section by section, in epoxy primer. Piece by piece, fiber wrap was saturated and applied to the primed columns. The repair consisted of two layers of FRP with the layers offset so that the seam of FRP did not align. This ensures that no point is uncovered on the columns. The whole project only took four days to complete.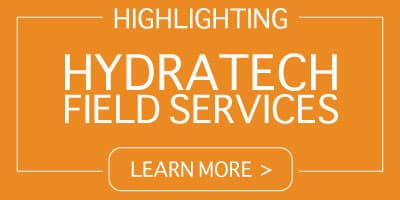 While the repair sections were being coated and covered, a small patch of FRP wrap is applied to another section for the adhesion test. A test dolly was applied to the FRP test panel 48 hours after the fabric was bonded to the concrete surface. 72 hours after applying the test dolly, a pull-off adhesion test was performed. The adhesion test is conducted to ensure the FRP has sufficient bonding and is part of the quality control protocol. A minimum of 200 psi is desired. In this test, the dolly withstood in excess of 5,000 psi before it was removed.
It was fun to put what I learned in the shop to the test on an actual project. The field crew made me feel right at home. Honestly, I'm looking forward to the next time they need an extra person.
Soon enough Caleb Rutledge did get the chance to work out in the field again. Read about it here >