PROVEN EXPERIENCE
WITH MEASURABLE RESULTS
Glass Fiber Wrap – Concrete Bridge Columns
HydraTech Field Services
Market
DOT
Challenge
The existing concrete bridge columns were experiencing spalling. The bridge spanned over a creek and options for repair were restricted by the limited access and space. A solution was needed for strengthening the spalling columns that would not be a detriment to the traveling public.
Engineered Solution
To eliminate further spalling and encapsulate columns, glass fiber wrap, and a cementitious coating were selected to stop further degrading of the bridge columns.
Scope
The project encompassed prepping the surface of the columns, wrapping the columns with the glass fiber wrap, and coating the columns for protection. Preparing the columns included power washing, clearing the bottom section of the columns so the wrap can be flush with the ground when installed, and patching the spalled area with concrete. The columns were then wrapped with the glass fiber wrap. Next, the columns were fully covered with a cementitious coating. Once this layer is cured, a pull test was performed to ensure that that tensile strength was optimized. This process was applied to 18 columns over 2 weeks.
Solution
Glass fiber wrap and a cementitious coating proved to be a cost-effective solution that did not affect traffic. The solution was implemented with limited equipment despite the minimal space and a creek that ran below the bridge. The confining strength provided by the glass fiber wrap and a cementitious coating will ensure the columns would extend the life expected of the bridge.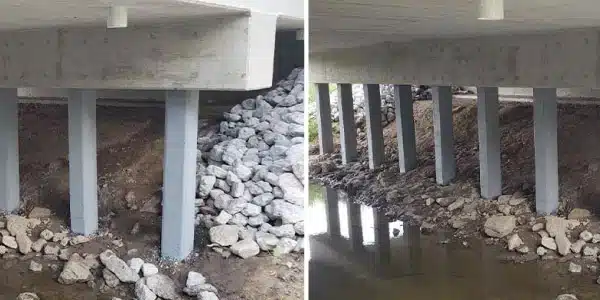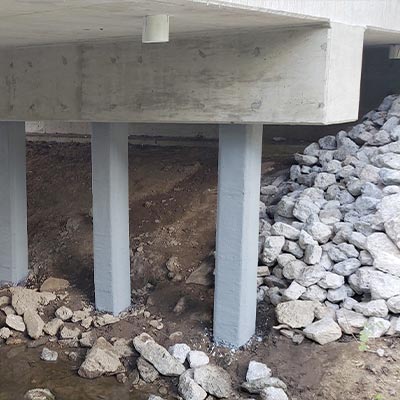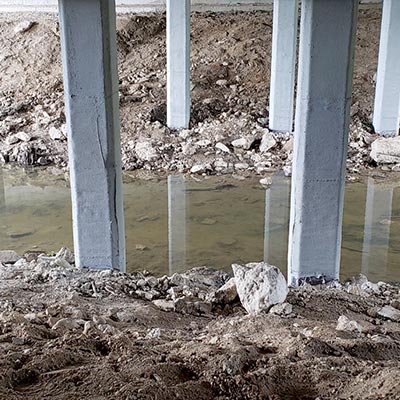 Explore Field Services

More Products

Case Studies


Explore Field Services


More Products


Case Studies


Explore Field Services


More Products


Case Studies