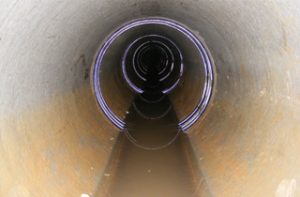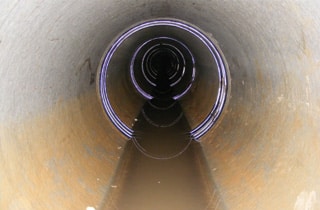 When an underground pipe breaks, the traditional repair process requires digging through layers of asphalt, concrete, or landscaping to access the pipe and replace it. This process is expensive and time-consuming. For cities, water, gas, or sewer line repair can devastate a budget not only because of the repair itself but also from having to fix torn up infrastructure, such as roads or sidewalks. Meanwhile, residents and business owners are having to go without utilities or face a boil-water advisory and deal with the inconvenience of road closures and detours. For industries who experience a pipe break, the cost of repairs coupled with downtime can also be disastrous.
However, innovations in pipe repair have changed how underground pipes and mains are installed. Called "trenchless pipe repair," this method is often a better option for cities and industries who need a faster repair process that still provides an effective solution. To help you understand this method and see if it's right for you, we're sharing an in-depth look at this pipe repair and replacement process.
Trenchless Pipe Repair Products
Depending on the type of pipes that need to be repaired and their use, there are a variety of products available to ensure the most effective, long-lasting solution. At HydraTech, we have several products we use to create a custom solution.
● HydraTite® Internal Joint Sealing is ideal for repairing pipe joints, pressure pipes, and joint infiltration in water, sewer, gas, and power generation pipelines. It uses a rubber seal that is held in place using steel retaining bands and can be extended for long lengths of pipe or custom designed. This is often used to repair:
○ Round Pipe Joint Seals
○ Elliptical Pipe Joint Seals
○ Box Joint Seals
○ Liner End Seals
○ Expansion Joint Seals.
● HydraWrap® Pipe Wrap and Leak Repair is used for gas, power generation, and industrial pipelines that are leaking or corroded. Available in multiple varieties depending on temperature and chemical resistance needs, this material is made from high- performance epoxy and custom carbon fiber fabric to ensure an effective, long-lasting corrosion barrier.
● PolySpray Sewer Pipe Lining is used to repair chemical sewers, waste removal pipes, and storm drain culverts. Made from a polyurea base, this coating is highly durable and provides excellent resistance to corrosion and abrasion, while offering the flexibility necessary to create a seamless waterproof coating.
● WaterLine Potable Water Pipe Repair is a low-temp epoxy coating that cures to a hard substance and is certified for use in potable water lines. This smooth, durable lining is thin enough to ensure proper water flow but has a durability that comes with a 50 year life expectancy.
The Benefits of Trenchless Pipe Repair
Each of the products and methods we use in trenchless pipe repair allow us to fix the problem quickly and minimize the cost of repairs.
With traditional pipe repair, heavy equipment is often needed to dig down into the earth to access the pipe. Then, the pipe itself must be patched or removed and replaced and buried again once it's fixed. If a road, parking lot, or other type of infrastructure has to be dug up, this also needs to be repaired. From start to finish, the process requires multiple steps that can lead lengthy downtimes for industries or extended inconvenience for home and business owners, while the costs involved in both the repair of the pipe and fixing what's been torn up are massive.
Trenchless pipe repair allows us to come in with our equipment, begin work quickly, and get the project done fast. Our clients experience little to no downtime as we install new pipes or pipe lining and once it's in place and cured, the project is done! Because we don't have to dig a trench to access the pipe, there's little to no "collateral damage" that needs to be fixed.
Contact HydraTech for Trenchless Pipe Repair
If you experience a pipe failure or are concerned that your pipes are corroding, we can provide you with an effective, long-lasting solution that minimizes both costs and downtime! Reach out to us today at (513) 827-9169 or by filling out our contact form to learn more about our trenchless pipe installation and products.
Contact HydraTech For Trenchless Pipe Repair