February 7, 2020, Cincinnati, OH – HydraTech's advanced internal joint seal product, HydraTite®, is slated to be featured at WWETT (Water & Wastewater Equipment, Treatment & Transport Show) February 18 – 20, booth #1834. CRETEX, a certified HydraTech Distributor, will be showing the advanced internal pipe sealing technology that has made HydraTite a preferred solution by DOT's and utilities across the country.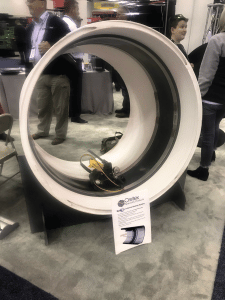 HydraTite, by HydraTech Engineered Products, is an internal joint sealing system that effectively stops leaking pipes, prevents potential disasters, and prolongs pipe life. Repairing pipes instead of replacing them is a cost-effective, time-saving solution that many DOT's and plant managers have now adopted. HydraTite can be found throughout local and state municipalities, water and power plants, utilities, petrochemical, and marine facilities, and state transportation and works.
"The HydraTite Internal Pipe Joint Seal is a cost-effective approach to repair the common problems of piping systems where the piping is sound, but the joints have failed," states Peter Blais, CEO of HydraTech. "We offer personalized service and provide solutions to these problems at a fraction of the cost of traditional repair methods. We solve the dilemma of time-consuming and expensive excavation and disruption to replace the entire pipeline when only the pipe joints are the problem."
HydraTite consists of a rubber seal, installed internally to the pipe, held in place by stainless steel retaining bands. Each seal is custom made. The seals can be interlocked to span long lengths of pipe and can include a backing band to remediate pressure piping and cooling water expansion joints.
WWETT, Water & Wastewater Equipment, Treatment & Transport Show, February 18 – 20, 2020, is a yearly trade show that gathers wastewater and environmental service professionals in Indianapolis, IN. Every year attendees come to network with people in related work, learn about new innovations, and interact with many demos brought by various companies. 
About HydraTech
HydraTech is a full-scale design & engineering/manufacturer/installer of pipe remediation technologies. It's flagship product solution, HydraTite, repairs pipes in less time with less cost. Based in Cincinnati, OH, with offices in Houston, TX, Hydratech services a spectrum of industries across the country and around the world. With over 50,000 custom installations, the company is constantly developing new ways to protect, maintain, and repair infrastructure with less disruption and more support. For more information contact: (513) 827-9171 website@hydratechllc.com www.hydratechllc.com 
About Cretex
Cretex Specialty Products is a market leader with products designed to eliminate inflow and infiltration in Manholes and Underground Pipes. With products for construction and rehabilitation, Cretex Specialty Products can help find the best solution for underground utilities. Contact: 800-345-3764 ; info@cretexseals.com www.cretexseals.com
If you plan on attending the WWETT event make sure to follow us on LinkedIn and Facebook to stay up to date with all that we are doing at the event!