Cincinnati, OH, January 5, 2020 – HydraTech Engineered Products has been awarded the contract for Liner/Cured-In-Place-Pipe/Joint Seals contract (CIPP) 315 A-21. This job entails pipe repair for all 12 Ohio Districts including most pipe and culvert joint repairs ranging from 18"-120". The HydraTite® Internal Joint Seal productis a winning solution providing real cost and time savings versus excavation and replacement. Customized for each job, HydraTite can be installed in less time and at a fraction of the cost of replacement.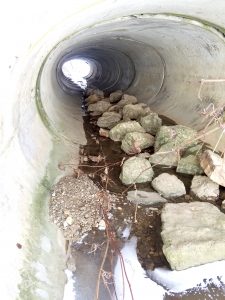 Deteriorating pipes are a constant problem for most state agencies. The winter weather combined with aging pipes wreaks havoc on the integrity of pipe joints, causing root and water infiltration as well as exfiltration leaks, which can compromise infrastructure. These issues, if not maintained and repaired, can lead to catastrophic breakdowns, severely damaging surrounding infrastructure and causing disruption to surrounding businesses, residential areas, and traffic flow. HydraTite Internal Joint Seal will fix leaks avoiding complete breakdowns, time-consuming excavation, or costly replacement.  
"Being awarded this contract by Ohio Department of Transportation shows that our cost-effective and quality repair solutions are a trusted and proven option, states Peter Blais, CEO of HydraTech. We engineer, manufacture, and offer installation of all our products ensuring attention to detail, the highest quality products, and exact specifications."     
The importance of maintaining the integrity of drainage systems cannot be ignored. The impact of neglected system maintenance can prove to be more costly if left to fail. Maintaining and repairing pipe joints and culverts extends the life of the pipe and can avoid potentially disastrous failures that damage infrastructure and cause significant disruptions. HydraTite Internal Joint Seal presents the prime solution for DOT's anywhere.
About HydraTech
HydraTech is a full-scale design & engineering/manufacturer/installer of pipe remediation technologies. It's flagship product solution, HydraTite, repairs pipes in less time with less cost. Based in Cincinnati, OH, with offices in Houston, TX, Hydratech services a spectrum of industries across the country and around the world. With over 50,000 custom installations, the company is constantly developing new ways to protect, maintain, and repair infrastructure with less disruption and more support. For more information contact: (513) 827-9171; website@hydratechllc.com ; www.hydratechllc.com